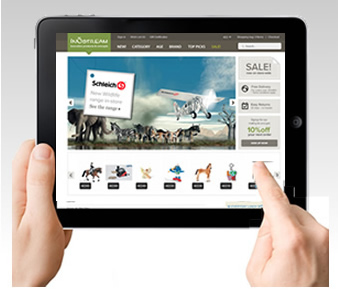 It's fairly simple now to become an online entrepreneur, thanks to technology and social media. Making a profit, on the other hand, is not always simple. There are small details that could greatly affect how your business thrives on the Internet — you can't just put up an ecommerce portal and expect customers to come rolling in.
Building the smartest (and most successful) business website requires a lot of consideration. Online retailers must balance web design and development with marketing practices to successfully drive sales.
To add to the balancing act, your website and business will benefit when you consider what your customer wants and needs. Most are looking for a simple, straightforward shopping experience. Think about it — when is the last time you felt that way in a mall? There's a reason shoppers are flocking to the web for their commerce needs — everything is tailored to them.
Christine Erickson has gathered a few tips for a successful ecommerce platform in the list below, some of which were suggested by Sucharita Mulpurur, an analyst at Forrester, and Ben Zifkin, CEO of Hubba.
Whether you're a small business owner or an online shopper — as a customer, what features do you appreciate when you're purchasing something on the web? Share your thoughts in the comments.
1. Easy Navigation
In order to get customers to purchase your product, they must know how to get to it first.
2. A Great Search Bar
Even if your site is easy to navigate, nearly every sucessful website has a search bar. It's a quick and convenient way for customers to find exactly what they need.
3. Keep it Simple
Provide an easy payment system. Consumers are more likely to purchase your product if the checkout is streamlined and straightforward.
4. Extra Features
Though the payment process should be straightforward, users shouldn't feel like their options are lacking.
Keep in mind that some are purchasing your product as a gift. So, offer services like wrapping, receipts, personalized notes and returns. These features give a customer more reasons to buy, whether it's for them or someone else.
5. Looks are Everything
You've likely spent a lot of time on your product — why not show it off in the best quality possible?
Showcasing your products in visually appealing and interesting way is a great way to grab potential buyer's attention.
6. Give Details
Data-sharing has evolved the retail world. Basic information like sizing, color and availability are necessary, but it helps the consumer to know things like how the product was made, how it will be shipped and what others are saying about it.
7. Shipping
Make sure your shipping costs are apparent before the customer's final checkout. The earlier they know about additional charges, the less likely they are to abandon their cart.
8. Be Honest
No one likes to feel tricked after they've made a purchase, especially one that they're not happy with.
Make sure that your policies are upfront and in plain language so customers know exactly what they are in for.
9. Be Human
Customers may like the anonymity of online shopping because it provides privacy and trust. But a personalized experience will likely bring good reviews and recurring shoppers.
10. Be Browser and Platform Friendly
Sites that run smoothly on multiple browsers and different Devices will drive more sales. Online shoppers are not going to wait around for a slow site to load or purchase something they can't see because the image is broken.